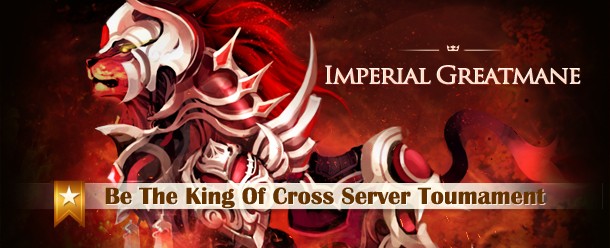 The contents here is for reference only, please see the in-game rules for specifics.
RULES:
1. First round of each match starts at 14:00.
2. Fight for top 1024 across servers in 1 fight. The system will match your opponent randomly.
3. 5 rounds will be held in Preliminary Match. Fight and win 5 turns until top 32 (of each tier) is decided.
4. Secondary Match lasts 3 days, which is divided into 32 advance 16, 16 advance 4 and 4 advance 2.
****
① In 32 advance 2, players need to win at least 2 fights (among 3 in total) to advance.
② In 16 advance 4, 16 players will be grouped into Group A and Group B. Each player needs to fight against the rest 7 players of his/her group. Winners will get certain points. At last, the Top of Group A and Group B advance.
③ In 4 advance 2, players will fight again for the winner. Then the losers who won the first round will fight again for a 2nd winner to advance.
****
5. In Final, the top 2 have to fight and win 3 times (among 5 in total) for the Final Winner.
6. The interval between each round is 30 minutes.
7. The 20 minutes before fight are for preparation. Players may send flowers/throw eggs, update battle status, and inspire.
8. During the last 10 mins before fight starts, players are not able to change anything any more.
9. The tier of Tournament are decided when you click "Sign Up". The upgrade after that will not lead to change of the tier.
About send flowers and throw eggs:
1. For players above lvl.50, you may send Flower x1 for free every round.
2. Before the combat, players can send flowers to the fighter you support. If the fighter wins, the supporters will get Realmgem x10 as reward regardless of the amount they sent.
3. The amount of Flower/Egg directly affects fighters HP, DEF and ATK.(More flower than egg, the stats increase. Vise versa.)
4. Before the combat, the fighters can inspire himself for 1-3% boost of all stats (PR, PD excluded). The more you inspire, the higher the boost. At most 5 times.
5. After each combat, the Flower, Egg, Inspire status will be reset.
About

pay tribute and

Champion's Blessing

:
1. When the Tournament ends, players may pay tribute to Champions. The Champion's Blessing will also be available.
2. Each player may pay tribute to Champion of Elite once a day.
3. Only Champion of Elite is able to unlock the Blessing, to grant players across servers the Blessing effect.
4. You can change the benefit of Blessing even after starting it. Both activate and change will take effect the next day.
5. The Blessing refreshes at 5:00 a.m, and lasts until the sign up of next Tournament starts.
About Sign up and

Preparation:
1. Players above 50 could sign up for the event or participate in Flower/Egg events.
2. The Tournament is held irregularly. Please pay attention to our announcement.
3. The process of Tournament: Sign up, Preparation, Qualifier Match, Preliminary Match, Secondary Match, Final. Only players who signed up could join in the fight.
4. During preparation, players will be divided into: Basic (lvl.50-69), Advanced (lvl.70-79), Elite (lvl.80-89).
5. The tier will not change any more once you clicked the Sign Up button. The upgrade after that will not affect the tiers.
6. During the sign up, players may update their status once an hour.
About the rewards:
1. Players who won in Qualifier Match will get Realmgem as reward.
2. Players who won in Preliminary Match and further will get Tournament Point as rewards. The points can be exchanged for items in Tournament Shop later.
3. Players will get rewards for participating Tournament, as well as for each promotion after Final.
4. The TOP 10 of Flower/Egg Ranking will get corresponding rewards.
5. TOP 32 of each tier will get certain time-limited titles as reward.
Rewards: (Player can gain all rank rewards up to current rank)
Elite
Rank
Rewards
Title
1

Mount: Imperial Greatmane*1

King Gem Exchange item*1

(Used to exchange the current Epic King Gem for Legendary King Gem)

Tour Champion

2
/
Tour Gladiator

3-4
Refine Stone*2

Tour Duelist

5-16

Epic King Gem*1

(a brand new kind of gem, granting 2 stats bonus at once)

Tour Warrior

17-32
Lvl.9 Aptitude Gem Chest*1 ; Omni Ember*4

Tour Fighter

33-1024
Hallowed Stone Ⅳ*20 ; Potential Chest Ⅰ*30

/
1025+

Hallowed Stone Ⅳ*10 ;

Potential Chest Ⅰ*20



/
Advanced
Rank




Rewards



1

Wings: Flare*1

Angel EXP Potion Ⅲ*20 ; Potential Chest Ⅰ*20

2

Lvl.5 Aptitude Gem Chest*1

Angel EXP Potion Ⅲ*10 ; Potential Chest Ⅰ*20

3-4

Lvl.4 Aptitude Gem Chest*1

Angel EXP Potion Ⅲ*5 ; Potential Chest Ⅰ*15

5-16
Potential Chest Ⅰ*15

17-32

Potential Chest Ⅰ*1

0


33-1024




Potential Chest Ⅰ*1

0




1025+




Potential Chest Ⅰ*1

0



Basic
Rank




Rewards



1

Wings: Grace*1

Eclipse Plume*30 ; Radiant Plume*30

2

Lvl.5 Gem Chest*1

Eclipse Plume*20 ; Radiant Plume*20

3-4

Lvl.4 Gem Chest*1

Eclipse Plume*20 ; Radiant Plume*20

5-16
Eclipse Plume*10 ; Radiant Plume*10

17-32
Eclipse Plume*10 ; Radiant Plume*10

33-1024
Eclipse Plume*10 ; Radiant Plume*10

1025+
Eclipse Plume*10 ; Radiant Plume*10

Official Site: http://mage.gtarcade.com/
Forum: http://community.gtarcade.com/group/2098
Facebook Fan Page: https://www.facebook.com/magerealmapp/